Wellion
Your Austrian diabetes brand
Reliable quality for your health
Recognised throughout the world in the field of human healthcare.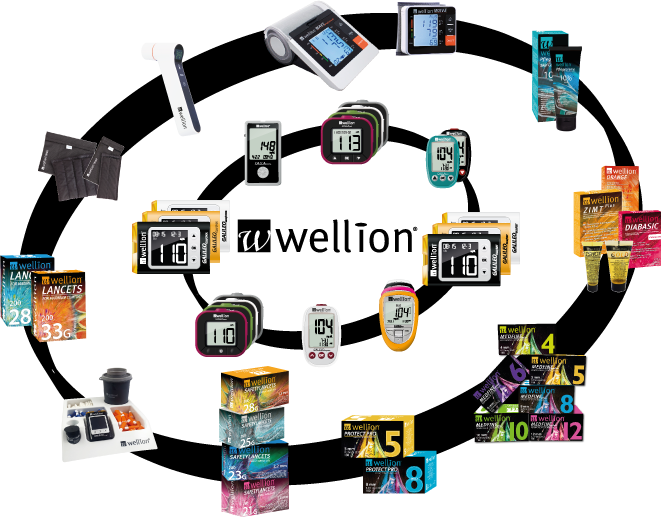 With our Wellion brand, our customers have access to numerous quality products that have been specially developed for people with diabetes.
The personal contact to people with diabetes is close to our hearts, this way we can find out directly which wishes and needs exist in everyday life to be able to optimally arrange life with diabetes. Many people with diabetesoften use their aids several times a day. They are committed to maintaining or improving their health on their own responsibility and actively. At the same time we support people working in the health care system as a reliable link in the health care system.
A further basis for Wellion products is a comprehensive quality management system in accordance with the strictest national and international standards (ISO 13485).

The Wellion product range includes the following premium products:
Blood glucose meters & test strips
Blood glucose meters with an additional parameter & test strips
e.g. for cholesterol, ketones or uric acid
Blood pressure monitors & accessories
HbA1c analyzer
Lancets & safety lancets
Pen needles & safety pen needles
Invert sugar syrup
Food supplements
Care products
Cooling pouches for insulin
Infrared Thermometer
Mesh-Nebulizer
And many more

Our high level of innovation, which we have demonstrated time and again over the last 20 years, ensures that we will continue to expand our product range in the future - and thus satisfy the needs of existing and potential customers. And we do this quickly and precisely.
Discover our product variety and interesting health tips at www.wellion.at